Unfortunately, there is more of Brian's story. He asked me to post this here. Like many around here, I met Brian on some Michaux rides in 2011. Then I saw him again at AS-5 of the Shenandoah Mtn 100, when he passed me at 85 miles. He had a big hole in his leg, blood, and no idea that he also had Stage 4 cancer in his head and neck. He was super happy to be nearly finished his first Shenandoah 100. Here's an old
MBM post on that.
And here's a great story on him before he ever had cancer. His story was pretty impressive before he even started this sport of mountain biking.
https://www.usacycling.org/news/user/story.php?id=5860
.
Brian and Lee Ann have been overwhelmed at the support shown by the mountain bike community. They certainly deserve it, and more.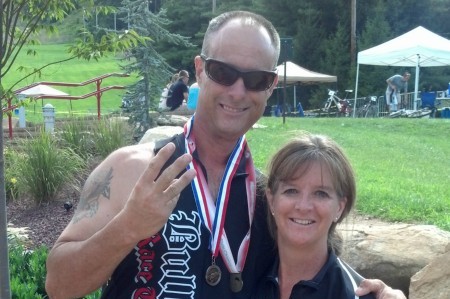 His co-workers in Baltimore are doing what they can:
LET'S HELP SUPPORT THE FIGHT AGAINST CANCER FOR BRIAN FULTS
DATE: SATURDAY APRIL 20th 2013
TIME: 1:00 PM – 5:00 PM
LOCATION: LOCAL 24 UNION HALL
2701 W. PATAPSCO AVENUE
BALTIMORE, MD 21230
MUSIC: PROVIDED BY JACK RYAN
MENU: PIT BEEF, ITALIAN SAUSAGE, SALADS, BEER & SODA
ALL DONATIONS TO HELP DEFER BRIAN'S CANCER EXPENSES
IF YOU CANNOT ATTEND PLEASE CONSIDER A DONATION
MAKE CHECKS PAYABLE TO: BRIAN FULTS
MAIL TO: JOHN L. RANKIN
3101 HOFFMAN MILL ROAD
HAMPSTEAD, MD 21074
QUESTIONS – CONTACT JOHN RANKIN AT: 410-871-4187
443-271-0815
CARMEN VOSO AT: 443-310-2791
PLEASE JOIN US TO SUPPORT BRIAN & HIS FAMILY
PLAN TO SHARE MEMORIES, PHOTOS & OLD STORIES